National Geographic Russia in July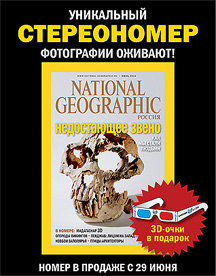 In July, National Geographic Russia magazine will be published in 3D format for the first time. The magazine's editors prepared a surprise for readers – several articles in stereoscopic format. The images can be viewed properly using special glasses included with this issue. Thanks to 3D technology, the literally jump off the page!
Stereo photography came into existence almost immediately after the invention of photography itself and soon won the hearts of technofiles. In the early 20th century, small boxes for viewing stereoscopic images could be found at Russian fairs and in French cafes. Early 20th century Russian photographer Arkady Osnin used the technique to depict life in the ancient city of Serpukhov. Many of the sights and places of interest that he photographed now exist only on film. Regular contributing author Andrei Kamenev traveled to Madagascar to record its inhabitants in stereoscopic format. Readers can compare the work of two masters of photography made a century apart.
Also in this issue:
A new human ancestor: Adam's brain was bigger than ours, meat made us humans and love caused us to walk on two feet. These are the conclusions reached by the author, who joined a scientific expedition in Ethiopia. It seems that this country – or more specifically, its Middle Awash region – is the cradle of the human mind.
The country of five rivers. Punjab – the richest and most prosperous province of Pakistan. Can it resist the onslaught of the Taliban? Find out in a unique report from the capital of Punjab – Lahore.
Cabbage in the transpolar region. Heat is returning to Greenland. On a narrow strip of land between the ice and sea, the inhabitants of this country have been able to foster a culture never before seen in this harsh environment.
In support of this unique issue, a promotional campaign will be conducted on four major radio stations, in the press and on large format plasma screens in Moscow.
The issue goes on sale on June 29.