The Moscow Times: Get Ahead of the Game!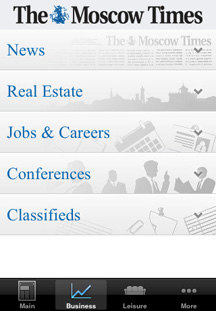 The world does not stand still. The modern businessperson now receives information from every available source. Mobile Internet is becoming a serious alternative to all other ways of receiving information because it works regardless of the recipient's location: in the car on the way to important negotiations, in a restaurant before a business meeting or on vacation with the family. The modern business person never parts with his iPhone because he wants to get ahead of the game.
In line with this trend, The Moscow Times newspaper has launched a free applet for the iPhone so as to become even more accessible to its readers. The applet makes it faster and easier to view the latest issue (articles and photos) of the only English-language daily newspaper published in Russia. The applet conveniently allows users to change article fonts, send articles by e-mail or store them in tabs.
To install the applet, the user must select the AppStore icon from the iPhone menu, key in "The Moscow Times" and press Search. To install the applet from a computer, the user must click on the appropriate link through iTunes.