National Geographic Traveler Business Breakfast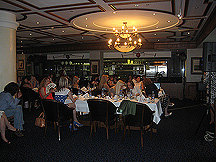 National Geographic Traveler invited key advertisers and business partners to the Polo Club restaurant at the Marriott Moscow Royal Aurora hotel on June 30.
The meeting was held in the form of a business breakfast. Guests listened to a presentation about the magazine's latest achievements: according to a recent media study by TNS Russia, National Geographic Traveler had the best performance in reaching its audience of all travel publications. Magazine publisher Irina Kovalevich, Editor-in-Chief Alexander Zheleznyak and Marketing Director Yekaterina Yeromina described the concept of the magazine and its audience, upcoming editorial plans and advertising opportunities, including non-standard special projects.
After the presentation, advertisers and representatives of leading advertising agencies were able to speak informally with each other and with National Geographic Traveler staff over breakfast. Each guest received a special complimentary gift from National Geographic as a memento of the meeting.