Vedomosti Holds Forum on Government E-Services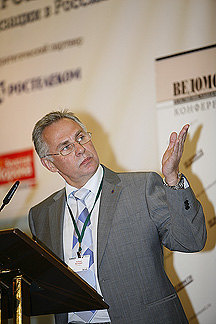 On June 28, Vedomosti newspaper and the ComNews Conferences company held the international forum "Public e-services: priorities and conditions for implementation in Russia."
This was the first conference hosted by the newspaper dedicated to the creation of a Russian model of e-government. As of 2010, the project to create e-government in Russia has moved to the implementation stage: state agencies are now required to publish information on their activities in the media and the Internet, they must pass a number of rules and regulations for providing e-services to the public and businesses, and a unified portal for state services has been created and launched. But as Microsoft president for Russia Nikolai Pryanishnikov said at the conference, many questions remain as to how and when e-government should function in Russia. These problems include the need to organize interagency electronic cooperation, the integration of a variety of departmental and regional systems, providing identification services to Russian citizens, information protection and other issues.
Taking part in discussing these issues were representatives of the Economic Development Ministry, the Communications Ministry, the Central Bank, the Federal Treasury, the Education Ministry, the Federal Registration Service, the Federal Communications Agency, the Supreme Court of Arbitration, the Supreme Court, the Central Elections Commission, the Presidential Administration as well as the heads of regional ministries and administrations. Taking part in the forum were also directors of such major state companies as Rostelekom, Aeroflot and others, private companies and banks from Russia and abroad, as well as the world's leading system integrators. Participants discussed the experience of implementing e-government projects in other countries, including in the UK and Estonia, whose representatives participated in the discussions.
Konstantin Noskov, Director of Information Technologies and Communication of the Russian government, told forum participants that as part of the project to establish e-government, plans are in place for a large-scale project to issue universal e-cards in late 2010 to the residents of three regions: Bashkortostan, Tatarstan and Astrakhan. The initial results of that project will be reported at the next conference, the date of which will be announced soon. Participants decided that the conference will be held annually.