Men's Health Presents Black Sea Cup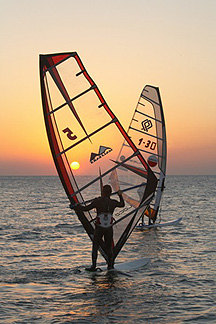 On September 19-26, Black Sea Cup, Russia's most wide-scaled event for windsurfing, kiteboarding and yachting, will be held in Anapa. Seven hot and windy days will be filled with freedom, thrilling fighting, professionalism and merry-making.
This year the competition is named Black Sea Cup by Men's Health – the popular men's magazine became the co-organizer of the event. In past years Black Sea Cup was awarded in different categories. This year with help of Men's Health spectators and lovers of water extreme sports will see and participate in the same Black Sea Cup as in 2005-2007.
In windsurfing the national freestyle championship will be held. Kiteboarding tournament, having the same status, will be held in two categories: spectacular freestyle and course race. The water fights between windsurfers will take place at the beach "Vysoky Bereg" in Anapa, between kiteboarders – spit Golenkaya of Kiziltashsky firth. The prize fund of Black Sea Cup by Men's Health is $15,000, excluding valuable presents from partners and sponsors. More over 400 athletes will participate in the tournament.
As for the evenings, spectators and participants of Black Sea Cup by Men's Health won't be bored either. This year their meeting point – beach "Vysoky Bereg", which will become the area for opening and award ceremonies, parties and concerts of popular groups.
Men's Health magazine supports and holds its own competitions in water sports for more than eight years, starting in 2003 with Men's Health Kazantip Sport. Young people who do windsurfing, kiteboarding and sailing personify the reader of the magazine – an active young men full of energy and ready to challenge himself and his abilities.
Black Sea Cup by Men's Health is organized by the National federation of windsurfing and kitesurfing and Men's Health. The tournament is supported by All-Russian sailing federation, Men's Health Adventure program, radio Energy, web portals Wind.ru and Kites.ru. The general partner of Windsurfing and Kitesurfing federation – "Flora Moscow".
For more information please visit www.mhealth.ru, www.mhadventure.ru and www.blackseacup.ru.