National Geographic Russia Launches Photo School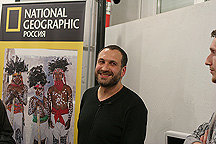 National Geographic Russia magazine will open the doors to its photo school on September 25.
National Geographic is an internationally recognized authority in the field of photography. As everybody knows, the magazine employs the best photographers from different countries, and every professional photographer dreams of publishing his or her work on the pages of National Geographic.
Now interested people have a chance to learn the secrets of the craft firsthand from National Geographic Russia's best photographers. The magazine will open its own school, with recognized masters of photography and regular contributing authors as instructors. Alexander Sorin will conduct the first master class on September 25.
Sorin has worked as a photographer for various magazines for many years. He has traveled across Russia's regions from the Kuril Islands to Kaliningrad. He has also worked in hot spots such as Chechnya and Kosovo. Since 2004, he has been working on his own documentary projects. Sorin is also the organizer and photographer of the Yenisei Meridian project in a network of museums that won the 2006 Prokhorov Foundation Award. He has participated in numerous personal and group exhibitions, his photos of the Russian Far East, the Kuril Islands and Sakhalin are in the United States Library of Congress, he is an expert at the State Center of Photography and he authored a chapter on photojournalism in a textbook for students of social journalism. Now Alexander Sorin is a regular contributing author to National Geographic Russia magazine.
You can sign up for Sorin's master class and learn more about the National Geographic Russia photo school at the website www.national-geographic.ru/ngm/school.