Vedomosti Hosted Conference on Automobile Business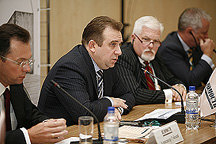 As part of the Moscow International Motor Show, Vedomosti newspaper organized a conference on March 26 titled "The Automobile Business 2010: Stagnation, Stabilization or Growth?" Participants included government officials responsible for overseeing the automotive industry and the heads of major Russian auto manufacturers and dealership networks. They included Alexei Rakhmanov, director of the Automotive Industry and Agricultural Machinery Production Department of the Industry and Trade Ministry, Kaluga region Deputy Governor Maxim Akimov, AvtoVAZ President Igor Komarov, GAZ Group President Bo Inge Andersson, Rolf CEO for retail Sergei Shcherbinin and others.
According to Alexei Rakhmanov of the Industry and Trade Ministry, the Russian automobile industry is beginning to make a strong recovery after suffering serious setbacks in 2010. What's more, the greatest growth has been in the number of automobiles produced in Russia, surpassing the number of imports: the share of foreign cars assembled in Russia rose from 19.8 percent in 2009 to 34.7 percent in 2010. The "Cash for Clunkers" program started in May has played a central role, now accounting for 50 percent of all car sales.
AvtoVAZ President Igor Komarov reported that the company had completed its anti-crisis program begun one year ago that included a 30 percent reduction in staff, handing over unnecessary social functions to the Togliatti and Samara regions and restructuring its debt. The company has begun an ambitious program of modernization by refusing to build its "classics," focusing instead on partnering with Renault and Nissan to launch a new line of cars in 2011-2012.
Mercedes-Benz Rus president Juergen Sauer said that the company's sales might be higher this year than ever before. Mercedes-Benz sales have risen faster than not only the market, but also sales for the premium segment – increasing by 76 percent over July of the previous year.
There was no talk of stagnation: forum participants were unanimous that the Russian market is making a steady comeback. For many companies, the crisis became a period to reassess their values: they actively introduced innovations, cut costs and improved quality.