National Geographic Russia Supported "Photographers' Day 2010"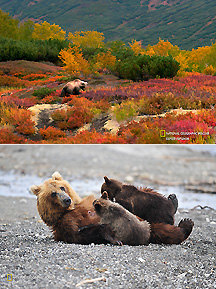 National Geographic Russia magazine acted as informational sponsor to the Photographers' Day 2010 festival held at Sokolniki on September 11 and 12.
National Geographic Russia magazine presented the "Lord of Kamchatka" photo exhibit at the festival. The exhibit displays the work of Sergei Gorshkov, renowned photographer, regular contributor to the magazine and one of only a few photographers who dares to shoot bears in the wild. The vivid images he captured held visitors literally spellbound.
The National Geographic stand was also in operation throughout the event and attracted a large number of visitors. At the stand the magazine advertised its new photography school project that will open its doors on September 25. Visitors to the display learned when the next classes would be held and discovered that the instructors are the best photographers working for National Geographic Russia. According to tradition, visitors had the opportunity to purchase the latest issue of their favorite magazines – National Geographic Russia and National Geographic Traveler.
More than 1,000 people visited both the stand and the event itself. Photographers' Day united everyone involved in photography – professionals, amateurs and members of the business community. Even whole families attended the festival. Every festival guest was able to find something of interest: master classes and seminars conducted by Russia's leading photographers.