RB.ru Tells All about Lifestyle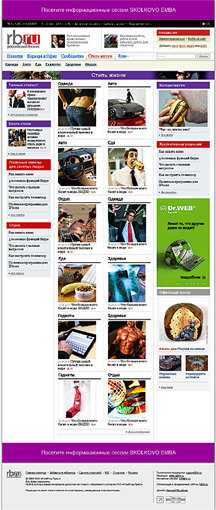 RB.ru is launching its Lifestyle project designed for busy people who spend most of their time at work. The special project enables users to learn – without leaving their offices – how to spend time outside the workplace, what is currently fashionable, and describes new gadgets and styles in all of their manifestations.
Every day, on the pages of the Lifestyle special project, users will find new material explaining what to wear, where the tastiest eateries are, which car or gadget to buy and much more. The material will include short interviews with top managers in the style of "My five favorite places/things," useful tips for busy people, articles on the dress code and business etiquette and the practice of giving corporate gifts. Readers can also peruse interesting blog posts about noteworthy places and weekend plans. They can also share their experiences and look over thematic ratings.
As part of the special project, Lifestyle will introduce the following new headings:
Secret Stylist – an anonymous author will assess how the employees of this or that company dress;
A column by style consultant Steve Stepanov, as well as a mystery expert who advised Anatoly Chubais;
You are What You Eat – Every user can post photos of their office lunches;
Collective Review – Users can add their reviews and impressions to the RB.ru editor's text about important cultural events. The authors of the most interesting reviews and opinions will receive awards.
The Lifestyle special project will be added to the main menu and will also be advertised in a special block on the main page of RB.ru. The special project targets an audience of mostly men, aged 25 or older with strong purchasing power.