One Million Reasons to Read Vedomosti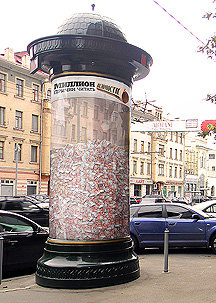 On October 1, the Vedomosti business newspaper will launch the image advertising campaign "One million reasons to read Vedomosti." The campaign goal is to expand the readership and increase the number of subscribers to the paper and Internet versions of the newspaper. The ad campaign targets a young audience of from 20 to 30 years of age: ambitious young specialists who are not yet regular readers of business publications and web sites but who share the same values as Vedomosti readers.
On October 1, dozens of "babloboxes" will appear in the streets, business centers and malls. Additional support for the image campaign will be provided by radio stations (Business FM, City-FM, Our Radio, Europa-Plus, Retro FM and others), business publications (Forbes, Newsweek, Expert and others) and popular Internet resources (hh.ru, rambler.ru, lenta.ru and others). Image ads will also be on display in coffee shops, fitness centers, banks and other locations frequented by the target audience.