Agroinvestor Held Agroforum in Volga Region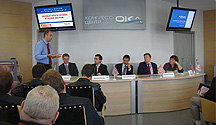 Agroinvestor magazine held a forum in Nizhny Novgorod for agricultural producers from the Volga region. Titled "First results of the season and lessons from the draught," the event brought together more than 80 market participants from 10 regions. The Ingosstrax company acted as partner to the forum with Agroinvestor Editor-in-Chief Nikolai Lychev serving as moderator. Forum speakers included representatives of Sberbank, Russian Agricultural Bank, Ingosstrax, the Russian Grain Union, regional administrations and top managers of Volga region agriholding companies.
How long will grain prices continue to rise? Should cultivated acreage be reduced? How to plan investment when expenditures and production costs of agricultural products are growing? How to identify a situation covered by insurance and how to receive compensation? How to receive and extend a subsidized loan? Forum participants discussed these and other questions using a format of a brief presentation followed by panel discussions.
The magazine organized the previous regional event – the "Southern Russia Investment Agroforum" – in Krasnodar in March, also with participation by Ingosstrax.