Vedomosti Held Sports and Business Conference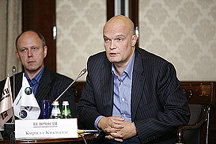 Vedomosti magazine, with support from general partner Megafon, held the fifth annual Sports and Business Conference on September 23.
This conference traditionally brings together the directors of leading Russian and foreign sports clubs, leagues and federations, as well as representatives of the executive and legislative branches of government. Participating this year were Executive Director of the Russian Olympic Committee Marat Bariyev, head of the economic development department of the Sport, Tourism and Youth Policy Ministry Sergei Smirnitsky, CSKA and Dynamo soccer clubs presidents Yevgeny Giner and Yury Isayev and other sports business and industry representatives.
The main topics discussed were the relationship between government and business in the development of national sport, as well as prospects and opportunities for creating successful business projects in sports. The Russian Olympic Committee (ROC) developed a strategy through 2020 in which the main participants in the Olympic process in the country will be the Sport, Tourism and Youth Policy Ministry, the ROC, territorial subjects of the Russian Federation, athletes, trainers and sports federations. Bariyev said that the ROC is hoping to receive strategy and cooperation proposals from all those listed, especially in light of the upcoming 2014 Winter Olympic Games in Sochi.
Sergei Smirnitsky said that the Economic Development Ministry is preparing amendments relating to sponsorship and patronage, but that they apply only to individuals rather than legal entities that are the main subjects of business activity in sports. It is necessary to resolve this conflict, Smirnitsky said.
Yevgeny Giner, president of the CSKA soccer club, said that one pressing issue is the need to separate the status of professional and amateur athletes in national sports. Giner said that he is categorically opposed to state-sponsored financial support of sports clubs – particularly soccer and hockey teams.
Continental Hockey League commerce and communications vice president Ilya Kochevrin agreed that it is impossible to effectively combine business and government funding. In his opinion, one of the main tasks before any sports league wanting to generate income from television broadcasting is to develop a high-quality product and to preserve the league's right to retain broadcasting revenues.
Dynamo president Yury Isayev said that the Russian Football project benefits soccer players themselves – not the clubs, the viewers, advertisers or television stations. "Nobody but them," Isayev said, "derives the least benefit from soccer. Aside from private business owners, soccer players are the highest paid employees in Russia today." From 70 percent to 90 percent of a club's budget – including money provided by sponsors – is dedicated to players' salaries. "Let's consider this problem together," Isayev said, "because you are also consuming this half-spoiled product."
Participants agreed to meet again in one year at the next Vedomosti conference to discuss any interesting initiatives and changes that will have occurred in the Russian sports industry during that time.