The Moscow Times Presents "Russia – The Netherlands" Supplement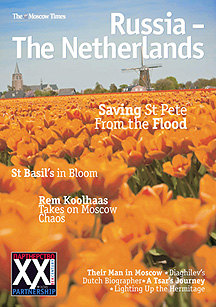 The "Russia – The Netherlands" bilingual color supplement to The Moscow Times newspaper has been released. The business publication is devoted to cooperation between the two countries in the business and tourism fields and was published in partnership with the Embassy of the Kingdom of the Netherlands.
The supplement contains an exclusive interview with the Dutch Ambassador to Russia Ronald Keller that is devoted to the most pressing political and economic issues in relations between the two countries, as well as articles on key business projects in Russia and the Netherlands.
The "Culture" section presents arguments of art historian Sjeng Scheijen regarding Sergei Diaghilev, theatrical figure and renowned organizer of Russian Seasons. It also includes a detailed story about the one of the most interesting cultural phenomena of contemporary Moscow – the Strelka Institute of Media, Architecture and Design that is given support by the well-known Dutch architect Rem Koolhaas.
The supplement is distributed in Moscow, St. Petersburg, Samara and Kazan along with The Moscow Times, Vedomosti and The St. Petersburg Times newspapers.