Men's Health Adventure Sailing School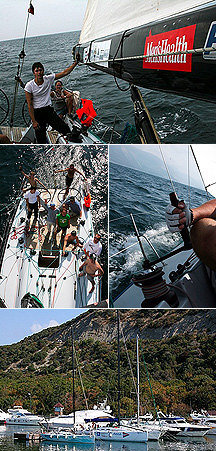 The third round of the Men's Health Adventure sailing school has ended. Nine brave adventurers sailed more than 160 nautical miles, learned to sail independently and manage a racing yacht.
The training course lasted seven days, with practical and theoretical lessons from morning until evening. Several participants chose to live on the yacht to more fully immerse themselves in the subject. The students were grouped in four-person teams of real sea wolves under the command of Russian Yachting Federation head coach Sergei Dzhienbayev.
The team trained on the 42-foot sport sailing yacht St. Anna. The rougher-than-summer weather gave participants a true extreme sports sensation. The boat once ran aground while sailing to Anapa for the Black Sea Cup by Men's Health, and the yacht reached a speed of 15 knots during the nighttime sail to Gelendzhik. Participants came to Anapa from Bryansk, Krasnodar, Moscow, Samara, St. Petersburg, Sochi and Tula.
As a result of the MH Adventure – Yachting in Anapa, it was decided to also hold several such courses next year, to organize advanced training for experienced yachtsmen and to enter a Men's Health Adventure team in a sailing regatta.