Custom Publishing Presents Updated Beelife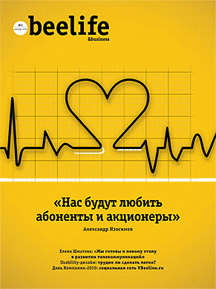 The Custom Publishing department of the Independent Media Sanoma Magazines publishing house continues to develop its active participation with VimpelCom, a leading Russian cellular communications company.
Now, in addition to the custom publication HLCity for preferred Beeline subscribers, Custom Publishing has begun producing Beelife, a corporate magazine for VimpelCom employees. The fall issue was released with a new design. The magazine will be published on a quarterly basis and will report on key company developments of the previous three months.
The new issue contains interviews with VimpelCom CEO Yelena Shmatova and company head Alexander Izosimov. The magazine gives special attention to the work of the MobioLab usability laboratory that tests Beeline products and services. Readers will also learn how VimpelCom celebrated its 18th birthday and find the results of the "Open Dialogue" between the company and its employees held following the organizational changes in the VimpelCom management.