Homes Overseas Held Roundtable on Bulgaria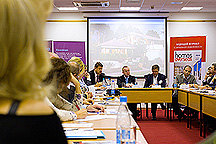 On October 21, Homes Overseas magazine – with the active support of the Bulgarian Embassy in Russia – held a roundtable business event for professionals in the foreign real estate market. The event was titled: "The resort real estate market in Bulgaria. The results of 2010: real opportunities for professionals and buyers." Eighty-four professionals from Russian and Bulgarian companies participated in the roundtable, with several of the speakers flying in from Bulgaria especially for the event.
Bulgarian Embassy staff presented official information on the condition of their country's economy and investment opportunities. Iliyan Tsonev, the Head of Economic and Commercial Affairs for the Bulgarian Embassy, spoke on "The Bulgarian economy and real estate market. How the emergence from the crisis is proceeding." Head of the Embassy's consular and visa section Angel Giorgiyev answered questions professionals asked regarding the visa regime and the status of Bulgaria's admission to the Schengen zone.
Lemestia company CEO Sergei Kozlov spoke on "The resort real estate market in Bulgaria. The story of its development and its current condition." Nikolai Nedyalkov (with the Yoo Bulgaria project) engaged listeners' interest by discussing concrete prices of resort real estate in Bulgaria.
After each presentation, speakers answered questions posed by fellow participants. They were particularly active in discussing the possibility of forming professional foreign real estate associations – a subject which market players have been discussing with increasing frequency lately. Roundtable participants agreed that such meetings held at an independent venue, such as this one organized by Overseas Homes, help to unite the community of foreign real estate professionals.
The next Homes Overseas roundtable will be devoted to Croatia.