Winter Tours from Men's Health Adventure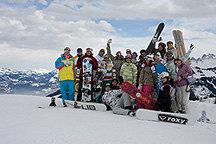 Men's Health magazine will present its winter adventure program at the ski show to be held at Gostiniy Dvor from October 29 to 31. The magazine will be offering three tours: Freeride on Kamchatka, Jibbing in Switzerland and Freestyle in France.
Kamchatka – the land of dreams and unexplored nature, a place too rugged to visit alone. However, the Free Ride on Kamchatka tour has been developed especially for the magazine's readers who are skilled skiers or snowboarders. True adventure lovers will enjoy nine days of off-piste skiing on the slopes of volcanoes covered in virgin snow, and taking a break with a soak in a geyser hot springs or a ride on a snowmobile.
The next trip will be to Laax, Switzerland from January 16 to 23. This is a tour for those who love skiing and snowboarding as part of a large and cheerful group of people at a major, high-quality resort. The Alps Laafest 2011 Russian Sports and Music Festival will combine sport, music, a great atmosphere, high mountains and socializing with like-minded people. The Men's Health Rail Master jibbing competition will be held as part of the festival on the night of January 17, and in Europe for the first time in five years. From 2007 through 2010, the most renowned Russian jibbing competition was held exclusively on Russian territory in the village of Dombai. The European Men's Health Rail Master contest is also unique in that it will include a second stage of competition.
The third Men's Health winter tour will take place from January 29 to February 5 in Avoriaz, France, during the student holidays and the Russian Avosnowfest. Last year, more than 400 people from Russia attended the festival – held for the first time in Avoriaz. It was decided to repeat and build upon that success this year. Avoriaz is located in the center of the joint Franco-Swiss ski area of Portes du Soleil and is the largest ski area in Europe with over 650 km (404 miles) of ski runs. On February 4, this will also be the site of the second stage of the MH Rail Master jibbing competition that will feature the best snowboarders and newschoolers of Russia.