The Moscow Times Presents Russia – Finland Supplement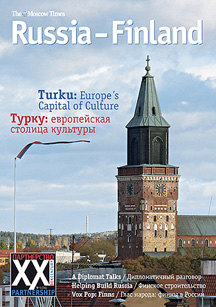 The Moscow Times newspaper presents the bilingual Russia – Finland supplement dedicated to cooperation between the two countries in the fields of business and tourism.
The supplement includes an exclusive interview with Finnish Ambassador to Russia Matti Anttonen in which he comments on the most pressing political and economic issues in the relations between the two countries.
The tourism section presents information about the ancient port city of Turku that, together with Tallinn, has been honored as the 2011 European Capital of Culture. Journalists have prepared the most interesting routes for becoming familiar with the city and listed events scheduled in Turku in 2011.
The business section of the publication is devoted to Finnish construction companies and their plans for increasing their investment share in construction projects in Russia. The publication concludes with an article profiling Finnish businesspeople who discuss the peculiarities of living and doing business in Russia.
The supplement is distributed in Moscow, St. Petersburg, Samara and Kazan along with The Moscow Times, Vedomosti and The St. Petersburg Times newspapers.