National Geographic Photo School Holds Master Class with Kirill Samursky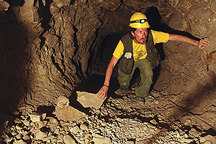 The National Geographic Russia Photo School, with assistance from the Photoproject company, hosted a master class conducted by Kirill Samursky titled "Shooting Expeditions."
Kirill Samursky – photojournalist, traveler and Orientalist – has been a professional photographer since 1991. Samursky has collaborated with National Geographic in many countries around the world and has been a regular contributor to National Geographic Russia since 2003. He has visited numerous countries over the years and traveled to distant corners of the globe, including the remote regions of Yakutia, Kamchatka, the Pamirs, Afghanistan, Syria and other locations. He most enjoys working with scientific expeditions.
In the master class, the well-known photographer explained the difference between an expedition and a hiking trek, as well as how to organize your own photo expedition. Samursky explained what a photographer should definitely shoot and not shoot no matter what, along with how to fulfill the given assignment if the reality does not meet expectations. He shared interesting aspects of photo shoots on archeological, ethnographic and historical expeditions and gave tips on choosing the necessary equipment and accessories for various assignments. The photographer also shared his experience shooting under difficult conditions (creating the right lighting and using additional photographic effects) and explained how to prepare the material for publication in travel and popular scientific publications.
Interested individuals can sign up for the next master class and learn more about the National Geographic Photo School at the web site www.national-geographic.ru/ngm/school.