Vedomosti Launches Paid Version of Site for Mobile Devices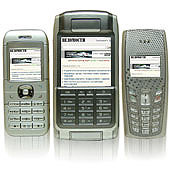 The Vedomosti daily business newspaper offers a new version of its site for mobile devices especially developed for all those who need constant access to quality business information at all times and under any conditions.
Just type the address m.vedomosti.ru into the browser of your smartphone or PDA to gain access to the mobile version of the site. All users will have access to the main business news of the day from Vedomosti newspaper, currency exchange rates, indices, quotes and useful information on business personae and companies.
Subscriptions are available for six or 12 months and can be paid for in a number of convenient ways: by credit card, bank transfer, in cash at a bank or through bank courier, or with the Yandex Money pay system. Users can receive fee-based materials by sending an SMS.