Yes! Presents New Internet Resource: Yes!-TV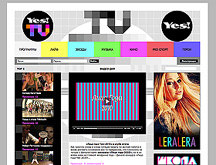 The yes.com.ru portal recently introduced a new Internet channel with a collection of video material on subjects ranging from illustrations of the editorial life of the magazine to special projects and programs. On one hand, Yes!-TV is an independent portal, and on the other, one of the main sections of the www.yes.com.ru site.
Although the pace of life is constantly increasing, traditional television cannot take on new forms. However, Internet TV allows viewers to watch programs independent of schedules and to download interesting material at their convenience – and without leaving the computer.
There is no shortage of video materials on the Internet, but most such sites feature user-generated content. The distinguishing feature of Yes!-TV is the exclusive content that adheres to a well-defined concept, is stylistically organic and delivered in a uniform method. Magazine editors host most of the programs.
Yes!-TV is:
13 sections and seven headings: "Life", "Programs", "Stars", "Music", "Movies", "Pro Sport" and others;
Five permanent thematic programs: "Fashionable", "Before and After", "Visiting", "Maximum Handmade" and "Q'Yes'tions";
A loyal target audience;
Exclusive interviews with the stars: Angelina Jolie, Mischa Barton, Paris Hilton, Eva Mendes, Chris Brown, Sophie Ellis Baxter, Robert Pattinson and others;
700 hours of actual video.
Welcome to the amazing world of Yes!-TV!