New Issue of Mamas&Papas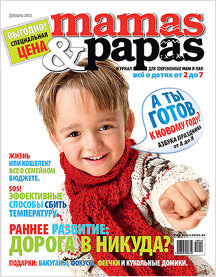 Not surprisingly, the December issue of Mamas&Papas is devoted to the New Year holiday. The magazine proposes preparing for the New Year together.
The new issue includes: New Year's from A to Z, amusing stories from Grandfather Frost and the Snow Queen, making New Year's toys with your own hands, a calendar of New Year's performances and the special project "Gifts".
For those who have not yet started preparations for the New Year, Mamas&Papas offers topics that are always relevant, regardless of the season: the family budget, early development, the right way to read fairy tales to children and reviews of workshops and activity groups for organizing your child's leisure time.
Readers will also find:
Getting Acquainted: an interview with lawyer Mikhail Barshchevsk who shares the secrets of adoption;
Practice: jungle gym equipment for the home – how to choose it and where to install it;
Characters: Bakugans;
Health: how to effectively lower a child's temperature.
The issue goes on sale November 23. The December issue of Mamas&Papas will be sold at a discount.