National Geographic Russia in December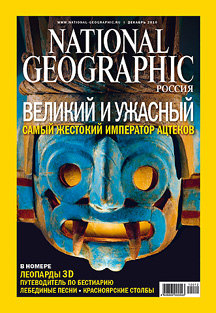 National Geographic Russia has a surprise for its readers in December – a special 3D issue. The first 3D National Geographic Russia issue was released in July to great success. The 3D material in the latest issue is devoted to the wildlife of Botswana. Renowned photographer Sergei Gorshkov took unique photos of leopards in their natural habitat, and thanks to the stereo effect, they seem to come to life on the pages of the magazine. Special 3D glasses are included for viewing the images, and the fascinating story by the National Geographic Russia contributing author and photographer will plunge readers into the world of distant Africa.
Also in this issue:
The Great Aztecs: the largest monolith of the Aztec empire and numerous ritual artifacts were discovered accidentally in Mexico. What secrets are hidden by these sacrificial vessels and caskets, and will the tomb of the cruelest Aztec ruler be found?
A meeting on poles. Not far from Krasnoyarsk, there is a place that can only be reached by walking over a precipice along poles that are suspended by chains – like a bridge in a medieval castle. It is no surprise that those who make the journey find themselves in a third dimension.
In support of the unique issue, an advertising campaign will be conducted on TV, radio, print media and large format plasma screens in Moscow.
Those lucky individuals who visit the Wine Factory fermentation workshop gallery between December 1 and 15 will see a unique 3D exhibit of leopards and other wildlife of Botswana.
The issue goes on sale November 30.