New Lessons from Wedding School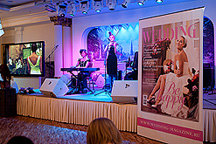 Last weekend, couples planning to marry in the near future came to the meeting hall of the Radisson Royal hotel (former the Ukraine hotel) in Moscow for the latest lesson from the Wedding School by Wedding magazine. This time, Wedding invited more than usual number of business partners who provide services for future newlyweds.
The syllabus was developed by the Yes events agency. Yes Managing Partner Nikolai Perepelkin presented a workshop on how to organize a wedding. Flower Queen company florist Tatiana Tridvornova related "The Story of One Wedding" and discussed various creative floral approaches, and astrologer Vladimir Pogudin offered consultations for interested individuals.
Fashion show stage manager Vladimir Safin held a workshop on style for young brides. Participants especially enjoyed a tour of the hotel that showed them the possibilities the location offered as a wedding venue.
In addition to the talks, guests enjoyed an extensive program of entertainment that included performances by music groups and a magician. Numerous individual business partners to Wedding magazine also provided consultations for those present.