First National Geographic Russia 3D Exhibition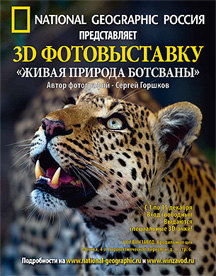 From December 1 to 15, National Geographic Russia magazine will hold a unique 3D photo exhibition titled "Wildlife of Botswana" featuring works by renowned Russian photographer Sergei Gorshkov. He captured a series of rare images of wildlife in Botswana that became the subject of a major article in the December issue of National Geographic Russia.
Exhibition visitors will see beautiful wild animals – leopards, elephants, hippos and lions – in realistic three-dimensional format. By donning a pair of 3D glasses (provided to all exhibition guests and included in each copy of the magazine) the African predators literally come to life.
The exhibition will be held from December 1 to 15 at the Vinzavod (Winery) gallery located at 4th Syromyatnichesky Pereulok 1-6 in Moscow. The exposition is open daily and admission is free. Details can be found at the sites www.national-geographic.ru and www.winzavod.ru.
The "Wildlife of Botswana" exhibition by Sergei Gorshkov is presented with support from Samsung.