Collezioni Celebrated Five-Year Anniversary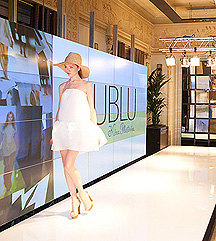 Collezioni magazine celebrated its five-year anniversary at the Marusya restaurant on November 23. The evening's guests included famous Russian designers, business partners and friends of the magazine.
Collezioni stylists organized a showing of works by Russian designers especially for the event. The wide variety of the Collezioni showing made it entirely unique and included examples of women's, men's, children's and wedding fashions. That approach accurately reflected the concept of the magazine. The Collezioni Fashion Department selected the most interesting trends for its guests from the collections of the spring-summer 2011 season. The Freshmania chain of beauty salons acted as the official stylist and makeup artist for the event.
DJ Kozak – Solyanka club mainliner and close friend of the Collezioni editorial board – provided the musical accompaniment for the celebration. Baikal vodka bartenders gave guests an incredible barmen show. The World Fashion Channel – the first channel of its kind in the world – made and screened a film on the editorial life of Collezioni that will also soon be available for viewing on WFC.
Collezioni Editor-in-Chief Irina Chernyak accepted congratulations from the assembled guests throughout the evening. Among the people in attendance were Konstantin Gaidai, Alena Akhmadullina, Daria Gauzer, Maria Tsigal, Sergei Sysoev, Konstantin Andrikopoulos, Izeta Hajiyev, Maria Kravtsov, Ekaterina Drobysh, Helen Yarmak, Alexander Stempowski and other famous personalities.
Collezioni gave complimentary gifts to each of the guests – the new December issue of Collezioni Luxe, Schwarzkopf Professional hair styling products and a Freshmania gift certificate.