For the New Year: Fashion Daily Planner from Collezioni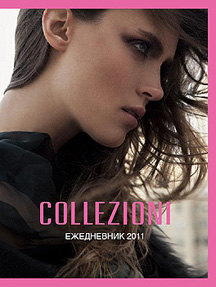 Collezioni magazine created a special New Year's gift for its readers – a fashion daily planner.
The small format planner with a glossy cover easily fits into any handbag. The daily planner is filled with Collezioni fashion shoots and quotes from famous figures from the world of fashion. With a one-year schedule of the magazine's release dates included, readers can tailor their plans so as not to miss a single issue.
According to Collezioni Editor-in-Chief Irina Chernyak, "The planners used by businesspeople are typically reserved in style and are most noted for the brand name embossed on the cover. Sadly, such planners are only filled with impressive figures and appointment times listed down to the very minute. There are also personal planners that are generally unpretentious in appearance and whose pages include dates dear to the holder: birthdays and other memorable events. And then there are creative planners with images and outstanding quotes that are designed to literally motivate, inspire and encourage their owners to sketch out their creative ideas for brilliant projects that they will undoubtedly bring to fruition in the new year," she said.
The Collezioni daily planner can be purchased at the Alpina Business Books store.