Vedomosti in eBook Format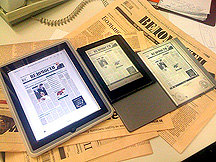 Vedomosti has released an eBook version of the newspaper. Now Vedomosti subscribers can receive the publication in a new format – ePub, the universal format for reading digital books that is recognized by most eBook devices.
Now subscribers can download the latest issue of Vedomosti on their devices and read the newspaper even where no Internet connection is available. Now iPhone and iPad users can read Vedomosti using the iBooks app. By copying the file of the latest issue into the iTunes "Books" folder and syncing the book on their device. Android owners should use the popular FBRreaderJ program.
New issues of the newspaper can be read on special reader devices from a range of manufacturers, on mobile phones and on personal computers that support this format.
All Vedomosti subscribers can download the ePub file from the "Current Issue" section of the newspaper's site or in the mobile version. Readers can also acquaint themselves with an example of a Vedomosti eBook before purchasing a subscription.
Vedomosti is also available in other mobile formats. The newspaper's daily mobile audience is close to 20,000 people who use the application for the iPhone, iPad and the mobile version of the site. In the near future, Vedomosti will offer users customized applications for Android, Windows Mobile and Samsung Bada.