Collezioni on World Fashion Channel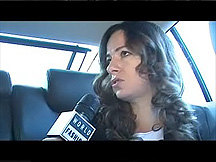 The World Fashion Channel made a film in honor of the 5th anniversary of Collezioni magazine. Viewers of the first-ever fashion channel will have a unique opportunity to see the latest collections from major fashion houses, a behind-the-scenes photo shoot with legendary photographers and top models and learn how each issue of the famous magazine is made.
Collezioni magazine Editor-in-Chief Irina Chernyak devoted an entire day to viewers, speaking in detail about the day-to-day working process at the editorial offices, how fashion shoots are conducted and the important qualities a chief editor should have. The WFC film crew and the magazine's fashion department were present on the Cirque de Soleil set. The film also includes unique footage from New York and Milan. Those watching the film will also learn how the November issue of Collezioni came into being.
The film, "The Daily Life of Collezioni Magazine Editors" will be shown be shown throughout the year on the World Fashion Channel.