Agroinvestor Summed Up Post-Crisis Year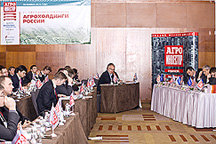 The 7th Federal Agroinvestor Magazine Conference, "Agroholdings in Russia: Initial Results of the Post-Crisis Year" was held in the Ararat Park Hyatt in Moscow. For the first time in several years the conference attracted more than 120 participants – representatives of agricultural holdings, agricultural producers and their suppliers, banks, insurance companies, leasing companies as well as agricultural sector experts and analysts.
The Ingoostrakh company served as general sponsor and the Stoilenskaya Niva and Volsky Biochem agricultural producing companies acted as event sponsors. Top managers of the Russian Agricultural Bank, Otkrytiye Bank, VTB Asset Management and PricewaterhouseCoopers spoke at the conference and gave reports and presentations.
Conference participants said that the financial crisis and the ensuing global drought broke the trend of growth in agricultural production, causing an expected 10 percent decline for 2010. However, points of growth remain such as pig and poultry farming and production in high-margin agriculture. In the sessions and discussion panels the analysts and experts considered which free-market niches are currently available in agriculture, how to properly hedge investment risks, how to avoid defaulting and attract development funds and the business strategies adopted by leading companies that successfully rode out the crisis. The conference ended with a round table of agro market participants discussing ways to modernize the agricultural production business.