New Collezioni Site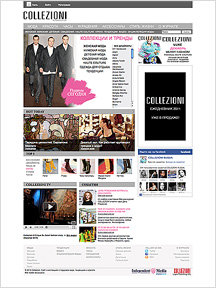 Collezioni magazine has launched a new website: www.collezioni-magazine.ru. The creators of the site have set themselves the task of making not just an Internet version of the magazine, but an independent project with the most comprehensive and diverse information on the world of fashion anywhere on the Internet.
The www.collezioni-magazine.ru site is a daily fashion publication about fashion, beauty, jewelry and lifestyle, a detailed review of the season's trends as well as photos and videos from fashion shows in the world's fashion capitals. The site features the latest collections of women's, men's and children's clothing, shoes and accessories. And thanks to the convenient category search function, users can find information according to designer, trends and so on.
The Collezioni site includes a unique "Encyclopedia of Fashion" – the first such resource in Russian. It allows users to not only find the information they need, but also to make their own contributions. The Collezioni TV section features videos about the magazine's editorial offices, fashion-shoots and interviews with famous designers and fashion experts.
The launch of the www.collezioni-magazine.ru site is a real holiday gift for Collezioni fans. The site plans to take a leading position on the fashion Netscape.