Yes! Supports Young Orphan Mothers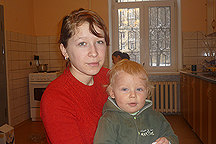 From Jan. 18 to Feb. 1, Yes! magazine will conduct a charitable auction with Molotok.ru, the largest trading venue in Russia, in support of the "Little Mama" program, which aims to encourage young mothers who have been raised in orphanages to preserve their families by not putting their newborns up for adoption.
As a rule, girls who have been raised in orphanages refuse custody of their own children once they become mothers, perpetuating the cycle of abandonment. That negative family scenario can be changed by providing those young mothers with favorable social and living conditions, giving them timely and qualified psychological and social assistance and helping them to find work and housing.
The auction includes a variety of "celebrity" lots:
The dress worn by singer MakSim at the Golden Gramophone awards ceremony;
The shirt worn by Ilya Lagutenko for his Eurovision Song Contest performance;
A guitar owned by Dan Balan;
A picture by Pyotr Nalich;
Costumes worn by the Quest Pistols during filming of their "Cage" music video;
The Lyzhnya Taimyr cap and scarf worn by Muz-TV VJ Timur Solovyov, and many other items.
All of the money raised will be donated to the Kidsave nonprofit foundation, organizer of the Little Mama program. Information about the fundraiser will appear in the January issue of Yes! magazine and on the websites www.yes.com.ru and molotok.ru.
Molotok.ru is the largest trading venue in Russia where everything is easy to buy and sell. Molotok.ru currently has 300,000 visitors daily and hosts millions of products from tens of thousands of stores, companies and individual sellers.