Men's Health Rail Master Tour in Europe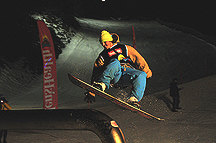 The Fifth Annual Men's Health Rail Master jibbing competition was held on Jan. 17. For the first time the event was held in Europe, at the famous Laax Alpine ski resort during the first Laafest Russian music and sport festival. In the past, this competition of the most extreme form of snowboarding, which is traditionally sponsored by Men's Health, has always been held in the North Caucasus during the Dombai snowboard camp in April.
The change of venue made a real improvement to the quality of the Men's Health Rail Master competition. For the first time, the best Russian riders were joined by foreigners: Swiss, Poles and even one athlete from Japan. The jib constructions met the highest international standards. The contest was staged in the evening under artificial lighting before a large crowd of spectators.
After a one hour warm-up period, the 26 registered riders began "cutting loose" in earnest. Over the next two hours, it became clear who was the best prepared and the luckiest. First place was awarded to Novosibirsk rider Alexei Sobolev, who will represent Russia in international competitions this year. Second place went to the famous Moscow rider Artyom Teimurov. And to the surprise of many, third place went to the contestant from Japan, Fuzita Kasushiga, who demonstrated confident and steady boarding. First place among skiers went to Grigory Fuzeyev of St. Petersburg. Mark Velshinger of Switzerland took second, and third place went to Daniil Kalachev of Kirovsk.
The second stage of the Men's Health Rail Master Tour will be held on Feb. 4 at the Avoriaz French Alpine resort during the Avosnowfest Russian music and sport festival. This is where the main prizes will be awarded, with the winning snowboarder to receive a free trip to the Men's Health Adventure snowboard camp in Hemsedel, Norway in spring, and the winner in the "new school skiing" category to receive a trip to the summer Actioncamp at the Les Des Alpes glacier ski resort in France.