New Issue of National Geographic Traveler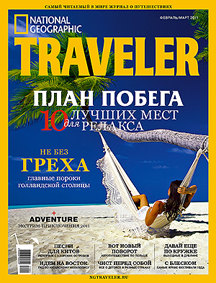 Amsterdam, the mysterious and fog-shrouded capital of the Netherlands, is the main theme of the latest issue of National Geographic Traveler. The "Diaries" section tells readers how to spend an unforgettable winter weekend in Amsterdam without freezing: where to try the most delicious street food and how to feel at home in the Dutch capital. There is also a detailed map of Holland that includes maps of various interesting cities. The map relates unusual facts about the country and its people, as well as explaining how to obtain a visa, how to get an education in Holland and much more.
In "Strategy," readers can learn what detox is and why it is necessary. How many pounds of toxins does your body contain? How do you know when it's time to go through the detox procedure and what result can you expect from it? Also, should we cleanse our body in India, England or Thailand?
"Our Choice" asks: What is the best way to relax, and where best to do it — the peaks of Nepal, volcanic Reunion Island, the Tuva steppe, Vietnamese lakes or Australian monsoon forests? Readers will find a list of the 10 best places for rest and relaxation.
Guide to Shanghai: one of the world's largest cities seen through the eyes of local residents. The article explains how to gain entry into the Temple of Buddha, what a garden of joy is, what other structures are on plan to be built in the city, as well as offering 22 useful tips from Shanghai residents.
In "Report," there is a story about a journey in the Azores. An NGT reporter chased whales in the ocean, warmed himself near active geysers and climbed to the top of volcano peaks. He explains how to use volcanic craters for cooking, what "the Earth's navel" is, and how whales sing.
The "Adventure" section lists the best travel routes for 2011: around Lake Baikal by automobile, rafting on the Katun River, yachting in Greece, hiking the volcanoes of Indonesia and a photo trek among the monkeys of Uganda.
Also, how best to spend a weekend in Dublin: the city's 10 main pubs, Viking towns, libraries, bookshops and Irish shrines and relics. The "Weekends" section reveals even more surprises about the Irish capital.