The Moscow Times Student Photography Contest Results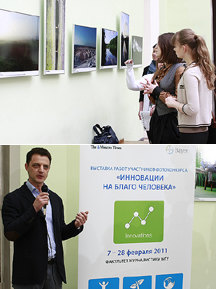 The Moscow Times and Bayer opened an exhibition displaying the winning works from their photo contest "Innovations for Human Good."
The exhibition is the final stage in a project aimed at focusing the attention of young creative people on innovations for solving the problems of the future and improving the quality of life. The project, organized by The Moscow Times and Bayer, was launched in November 2010.
Participants posted their photos in a special section on The Moscow Times web site, which was created to publish their works and to allow viewers to vote in real time for their favorites. More than 300 photos were submitted over 2 1/2 months. Visitors to the site selected 45 finalists, and the winners were selected by an expert jury that included representatives from National Geographic, The Moscow Times, Foto&Video, Popular Mechanics and Digital publications, as well as Bayer.
According to The Moscow Times Marketing Director Yekaterina Movsumova, "The theme of innovation is particularly relevant today, and it is extremely important for us to know the opinion of the younger generation — how they view the future and what they expect to see from innovation in the era of technological progress. Bayer is a leader in chemical and pharmaceutical development, and we are happy to cooperate with the company on this project. Only amateur photographers aged 20 to 25 took part in the contest, and it is especially nice that many of their works made a strong impression on the jury, reflecting the fact that each has his or her own unique personal background and point of view of events."
The exhibit is housed in the journalism department of Moscow State University at 9 Mokhovaya Ulitsa and will run through Feb. 27. More information is available on the project's web site.