Men's Health Rail Master in Avoriaz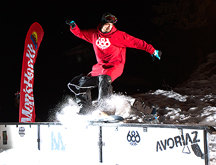 The second stage of the Men's Health Rail Master Tour was held on Feb. 4 at the Avoriaz French ski resort, during the Russian Avosnowfest music and sports festival. Grand prizes were awarded: a trip to the spring Men's Health Adventure snowboard camp in Hemsedel, Norway for the winner in the snowboarding category; and a trip to the summer Actioncamp at Les Deux Alpes, France for the winner in the newschool skiing category.
Over 25 participants competed to prove themselves the best rider on two rails. The contest was held in the evening, adding a sense of visual excitement to the event. The riders suddenly emerged from the darkness, performed stunning acrobatics that showered the audience with waves of snow dust and disappeared again into the night.
In Avoriaz, both Russian and foreign jib riders took part in the competition, just as they had in the first stage of the Men's Health Rail Master Tour held on Jan. 17 at the Laax ski resort in Switzerland. But whether the Russians were better prepared or luck was not with the foreigners, the top spots again went to the Russian athletes. After a lengthy qualifying round, the judges selected the best riders and staged an impressive finale. Muscovite Yury Gavrilov was dubbed the strongest rider, winning first place. Second place went to Bobby van Unnik of Holland who, along with his compatriot, thrilled the crowd with unusual doubles stunts. Another Muscovite, Nikolai Yerokhin, took third.
The skiers battled just as hard for the title, with Pavel Korpachyov of Yekaterinburg emerging as the undisputed leader. Kazan new-schooler Artyom Glebov ranked second, and third place went to Mathias Veggerbi of Holland. All winners received worthy awards, with the top winners taking home the grand prizes.