Wedding Magazine at Luxury Wedding and Gift Fair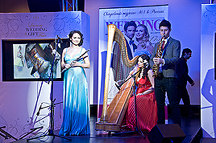 Wedding magazine took part in the Luxury Wedding and Gift Fair held at the Lotte Hotel from Feb. 11 to 13.
Wedding prepared a comprehensive program not only at the magazine's own stand, but also on the main stage. Brides-to-be as well as young ladies dreaming of marriage participated in exhibition workshops held as part of the Wedding School. The magazine regularly holds events for brides at its school, and invited the school's top specialists to the exhibition.
Designers from the Turandot floral studio were responsible for decorating the magazine's stand. Each bride received an elegant floral bracelet as a gift. Experienced fortune tellers used tarot cards to divine the fate of upcoming marriages. Psychologist and astrologist Arina Yevdokimova gave a workshop on wedding customs and traditions and ended it by giving each participant a balloon with a prediction inside. Adding to the program was a workshop on wedding contracts conducted by lawyer and business consultant Anna Vovk.
Guests were also treated to a memorable performance by ArfaSound: women in elegant dresses playing harp, flute and saxophone to the accompaniment of a DJ set. The vocalists of the La fille aesthetic music trio enveloped guests in the romantic atmosphere of Paris. The performances were sponsored by the Yes wedding agency, business partner to Wedding magazine.
As media partner to the exhibition, the Wedding magazine logo was displayed on banners and outdoor screens in the city center, as well as on invitations and other promotional materials. The magazine's editor-in-chief Natalya Kulikova told journalists from the World Fashion Channel about the latest trends in the world of wedding fashion.
This was the second time that the Prestige Events agency has organized the Moscow Luxury Wedding Fair, bringing together the best providers of luxury wedding services and gifts. The idea of the exhibition is to present the best the global wedding industry has to offer. Visitors to this unique project were able to meet Russian and foreign haute couture wedding designers, leading jewelers and accessory makers, as well as experts on wedding presents and organizing wedding ceremonies. People loved the food tastings, wedding dress fashion shows, art events and various informative and entertaining programs that ran for the whole three days of the exhibition.