Mamas&Papas in March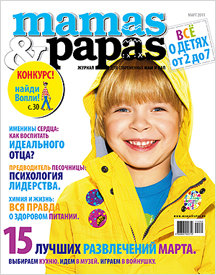 Time to stop hibernating! Mamas&Papas is greeting the new season with a striking spring issue.
The new issue of the magazine invites parents and children to search for the famous character Wally. The winner will receive two complimentary books as prizes: "Where is Wally Now?" and "Where is Wally Now? The Book of Wonders." More information is available in the magazine.
As the first spring holiday approaches, Mamas&Papas invites fathers to take the "Young Father's Course" and learn the story of the business dad and how to combine work with raising children. Editors have also prepared instructions on how to organize Women's Day on March 8 for those who don't already know.
In the Psychology section, readers will find a useful article on child leaders. The calendar lists the 15 best amusements on offer in March. In the Characters section, readers will learn all about Spongebob Squarepants. Parents' attitudes toward that character vary, but children love him — and that's a fact!
Also in this issue:
Personals: an interview with actress Maria Aronova;
Practice: breathe deeply — fresh air in your apartment;
Travel: Vienna, the capital of Austria.
The March issue went on sale Feb. 22.