Yes! Presents Handmade Issue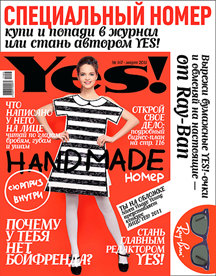 As part of the "handmade" theme of the March issue, Yes! is running a contest for readers: cut out the outline of the glasses printed on a special insert, create an original design for them, take of photo of yourself wearing them and send it in to the magazine. The 100 best photos will be published in the magazine, and the creators of the most unusual designs will win genuine Ray-Ban glasses. The magazine's editors have also showed their enthusiastic support for the contest by including their own designs in the issue.
An advertising campaign supporting the issue will run from March 1 to 14 on the Europa Plus TV and RU.TV television stations, NRJ and Europa Plus radio stations, in Moscow institutes and universities as well as in Luxor movie theaters.
The March issue of Yes! marks the beginning of a special series of issues. Every issue from March through July will sport a creative design, non-standard inserts and flashy covers.