Vedomosti on Every Vertu Phone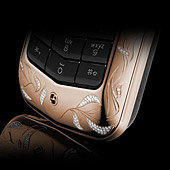 Vedomosti announces the launch of a new joint project with Vertu, the world-famous manufacturer of luxury mobile phones. Now all Vertu mobile phone owners can use a special Vedomosti entry on the menu to read articles from the latest issue of the newspaper.
Vedomosti is already distributed in other mobile phone formats. The newspaper's current daily mobile audience is approaching 20,000 people who use applications to view the publication on their iPhones, iPads and to access the mobile versions of the web site. Vedomosti plans to release similar apps for the Android, Windows Mobile and Samsung Bada formats soon.