"Agent Zigzag" — A New Book From United Press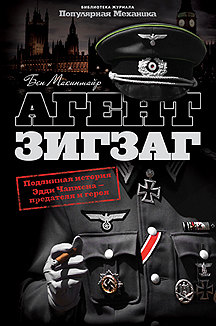 In late February, the book department of Alpina Business Books/United Press released Ben Macintyre's new book "Agent Zigzag." Two more books by the same author will be published in the near future.
The book tells the story of Eddie Chapman, the most famous double agent of World War II. Serving as a backdrop for this breathtaking biography are the dramatic and bloody events of the mid-20th century, the incredible advances and discouraging setbacks of the British and German intelligence services, the "quiet war" fought by mathematicians and counterintelligence agents seeking their enemy's secret codes, impossibly interwoven destinies — in short, everything we have come to expect from a wildly elaborate spy novel. The difference is that Ben Macintyre's "Agent Zigzag" is not only entertaining, but reflects extensive biographical research based on archival documents recently declassified by the MI5 British counterintelligence agency.