Collezioni at Kids' Fashion Week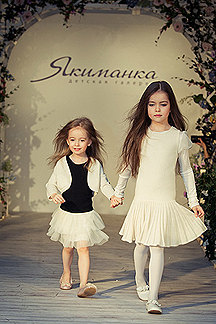 The third Kids' Fashion Week was held from March 18 to 20 at the Yakimanka children's gallery. Once again, Collezioni magazine served as general information partner to Yakimanka Kids' Fashion Week.
The latest children's fashion trends of the 2011 spring-summer season were on display for the three-day event. The first day had a sun-and-sea theme with displays of cruise collections from Dior, Laura Biagiotti and Miss Blumarine as well as collections from GF Ferre, Junior Gaultier and Aletta with a light sea theme.
The second day was a real treat for lovers of "flower" fashion — the undisputed favorite of the 2011 spring-summer season — with Miss Blumarine and Monnalisa showing great collections on this theme. Dresses made from fresh flowers by florist and decorator Tatyana Tridvornova added a beautiful and decorative touch to showings on the second and third days of Kids' Fashion Week.
The final day included a public showing of collections by designers Svetlana Tegin and Masha Tsigal — irreplaceable participants in the event. The Tegin Kids 2011-12 collection was distinguished by its restrained and refined minimalism that combined a warm milk color with black, and made traditional use of silk and Mongolian cashmere.
The Cocktail Party showing that closed out the third season presented a collection of evening dresses from the world's leading brands that had something to suit every young lady's taste.
According to Yakimanka gallery General Director Andrei Kruglov, "The Yakimanka Kids' Fashion Week has become something of a cult event. It's a real celebration filled with fashion and surprises, childlike wonder and happy parents, an event that attracts an increasing number of participants and guests every season, which people talk about and anticipate eagerly!"
A young fashion reporter from Collezioni magazine attended Kid's Fashion Week. His report will run in the next issue of Collezioni Bambini.