The Moscow Times Presents New Issue of Jobs & Careers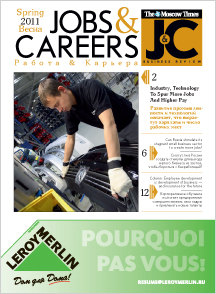 A new Jobs & Careers supplement to The Moscow Times has been released, and for the first time in two languages — Russian and English. The issue analyzes the implications of employers' emergence from the economic crisis and prospects for the Russian labor market.
The publication also includes an analytical review of the current condition of the small business labor market. The supplement's editor Rachel Nielsen cites data from recruiting agencies to show that efforts by the Russian government and independent investors are supporting the development of small business, and have improved the situation on the Russian labor market in recent months. According to the HeadHunter recruiting agency, the demand for employees rose by 6 percent last year, or 7,000 vacancies per month, and experts predict that salaries will return to pre-crisis levels by the end of this year.
Nonetheless, the condition of the Russian labor market is not ideal. Analysts are concerned about problems associated with the country's poor demographic situation and inadequate education. Government plans to introduce a 20 percent social security tax constitute another potential threat for employers, especially large companies.
Every day, an increasing number of employers are recognizing the need for introducing their own employee training programs. There is a growing demand for personnel coaches and development specialists. In the article "Human Resources Can Drive Employee Development," Cornerstone recruiting agency Human Resources director Yury Dorfman explains why training courses are not simply a means for raising the educational level of the staff, but a form of internal and external PR, as well as which qualities a good trainer should have.
The Job & Careers supplement is devoted to the issues surrounding developing education and employment levels and is aimed at employers, employees, job seekers and young graduates. Published in the spring and fall of each year, the supplement has a print run of 35,000 copies. The supplement is distributed to subscribers of The Moscow Times and Vedomosti newspapers, at The Moscow Times business events and training sessions and at job fairs at leading Moscow universities and institutes.