Main Competition Begins for "2011 Yes! Face of the Year"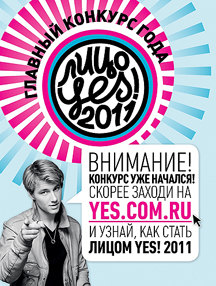 With the advent of spring, Yes! is once again beginning its search for the girl who will be featured on the cover and become the face of the magazine for 2011.
The "Face of the Year" project, a beauty contest among Yes! readers, has been held annually since the magazine's inception, with almost 1 million girls participating over the course of the last 10 years. Winners have included residents of the most remote corners of Russia as well as major cities. For many, victory in the contest has been an excellent starting point for further achievements. The project's main goal has always been to demonstrate to the young ladies that each of them has a chance to end up on the cover of the magazine. They don't need to be supermodels — just show their bright personalities.
This year's competition will be held under new rules. Now the winners of each round will be chosen by visitors to the web site www.yes.com.ru, with the magazine's editors only assuming that role in the choice of the final winner. What's more, the contest organizers have come up with a range of creative tasks for participants to demonstrate their creativity. A major awards ceremony with celebrities and a concert will be held in October to name the contest finalists.
The new Nivea Visage Pure Effect cosmetic line for young skin will serve as general sponsor of the project. Energy radio station will act as general information partner, offering regular broadcasts of the latest exciting details of the competition.