New Issue of National Geographic Traveler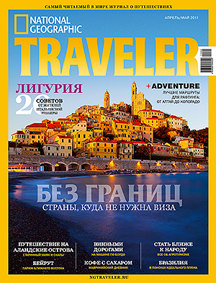 The new issue of National Geographic Traveler contains a unique guide to the region of Liguria. The guide is based on the accounts of local residents who shed new light on this popular Italian resort. The story includes: how to navigate the trail of love, where to find the bridge immortalized in Monet's paintings, a city of witches and 20 helpful tips from Liguria residents.
The Strategy section reports on agritourism – a resort vacation or relaxation. The Diary column covers Mauritius, its history from the moment the island first appeared as well as how to prepare Creole dishes. Readers will learn about the bewildering Indo-Chinese-Arab contrasts, the endless coffee and sugar cane plantations, Mauritian rum, surfing on the island, and finally, about how numerous Mauritian couples tied the knot while standing in the moonlight clad in white.
The Our Choice section lists places you can visit without doing a lot of paperwork. With 10 countries that don't require visas, it is tough choosing between them. Where to go – Argentina, Cuba, Madagascar or the modern technological wonder Hong Kong? In Report, a story about travels over the harsh landscape of the Åland Islands. An NGT correspondent explored a historic lighthouse, took part in the Ivan Kupala festivities and traveled by kayak. This section also includes a detailed map of the archipelago.
In Auto Route, discover the wine roads of the Gironde Valley, enjoy new information about the wine production process and learn why the word "chateau" appears in the names of various wines and which of those chateaus are worth seeing.
The Adventure column describes rafting trips of varying degrees of difficulty for professionals and beginners in such places as Karelia, Altai, Nepal, the Zambezi, Colorado and New Zealand. Do you prefer danger and high adrenaline or a calm cruise without much physical exertion? The article also explains how to combine rafting with speleology, a trip through a national park, how to construct the route and expert advice.
How to spend a weekend in Beirut, the Paris of the East: enjoy the charm of a Friday so unlike Russia's typical working day. Drink coffee with cardamom for breakfast, go shopping in the Armenian district and, of course, visit the National Museum.
The issue was released for sale on April 19.