Wedding Magazine Presents Film: Wedding by Exchange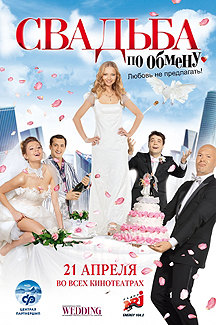 Wedding magazine is media partner to the main wedding film of the season, "Wedding by Exchange." The romantic comedy by the Central Partnership film company was released on April 21.
Leading actress Yekaterina Vilkova is featured on the cover of the April issue of Wedding magazine and shares her experiences with readers about shooting the film and her challenging role.
A major Moscow advertising campaign accompanies the film. The Wedding magazine logo appears on billboards and city format signs. Also, a copy of Wedding magazine is unobtrusively but noticeably placed in the film itself. In addition, Wedding magazine created a striking floral arc for newlyweds at the film's premiere in the Pushkinsy movie theater on April 15.