The Moscow Times Presents Russia-Sweden Supplement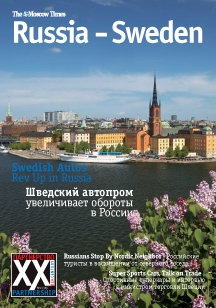 The Moscow Times newspaper released the Russia-Sweden supplement on April 29.
A Moscow Times correspondent traveled to Sweden and reported on the automobile industry, tourism and trade in that country. In Angelholm, a city in southern Sweden, he interviewed the designer and manufacturer of the Koenigsegg Automotive AB supercar, as well as Christian von Koenigsegg, the company founder. Koenigsegg hopes to sell more supercars in Russia, a country he believes has an attractive market for the fast cars his company produces.
Koenigsegg is not the only Swedish automaker trying to obtain a foothold in the Russian car and truck market. Burdened with a difficult financial situation, Volvo Cars, Scania, Volvo Trucks and even Saab are looking for ways to sell more cars and trucks in Russia in 2011. With the crisis ended and the automobile market growing, The Moscow Times studies the prospects these companies have in Russia.
Swedish Trade Minister Ewa Björling spoke with The Moscow Times about energy efficiency, customs and a new ferry service. Twice weekly, a ferryboat holding 2,400 passengers carries a large number of Russians to Swedish tourist locations. Russian tourists are most attracted to Sweden's museums, monuments, architecture, outstanding nature and the opportunity to purchase duty-free goods in the shops. One Swedish travel agent remarked that Russian tourists are typically "well-educated."