Wedding at Cartier Boutique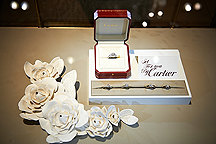 Wedding magazine was the exclusive media partner to the Cartier boutique promotion. The event was held from 9 to 11 p.m. at the Cartier boutique in Moscow's GUM.
The boutique was open to favored Cartier clients and new guests. A friendly groom greeted visitors at the entrance, and waiters served champagne and light snacks. Long-time lovers of Cartier masterpieces and new fans attended the special evening. Classical music and bouquets of pale pink peonies decorating the boutique's interior gave the evening a romantic spring atmosphere.
Wedding magazine invited a Tarot card fortuneteller and master of feng shui who added an air of mystery to the evening. A video about the new Set For You service by Cartier ran on a large screen in the center of the hall. With this service, any bride can create the wedding ring of her dreams. She has only to select one of the classic Cartier ring settings and the diamond of her choice, and in only a few weeks, Cartier jewelers will produce her custom-made ring. The idea is perfect for everyone — from couples preparing for the most important event of their lives to people who appreciate Cartier craftsmanship. Boutique managers enthusiastically explained the new Cartier service and also showed other models of wedding and engagement rings, emphasizing their unique designs and the incredible beauty of the diamonds — unmatched by any other jewelry house.
At the conclusion of the event, guests were treated to a little surprise: a delicious dessert with a fortune inside.