Custom Publishing Presents Anniversary Issue of The Troiker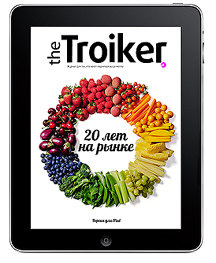 The 10th issue of The Troiker corporate magazine — published by the Custom Publishing department of Sanoma Independent Media for the Troika Dialog investment company — is an invitation to the financial market where Troika has been working for the past 20 years. In order to understand the secret of the company's success, it is necessary to know the team of employees working there. The magazine features the best employees of the year, describes the work of the contact and information center and sheds light on how the PR department cooks up its ideas.
This issue is also noteworthy for the fact that Troika CEO Ruben Vardanyan and Sberbank deputy chairman Andrei Donskikh share their thoughts on the prospects for joint development: The signing of an agreement of intent to merge Sberbank and Troika Dialog opens a new page in the history of the financial industry.
As usual, the magazine was published in both Russian and English, but Custom Publishing also released an iPad version of the 10th issue that will make it possible for owners of the device the world over to become acquainted with the magazine for the first time. That application can be found in the App Store: The Troiker.