Mamas&Papas in June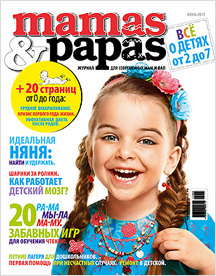 The June issue of Mamas&Papas is unusual in that editors devoted 20 extra pages to people with very young children. Young parents will learn everything about breastfeeding, recovering from childbirth and overcoming the crisis of the baby's first year of life.
All of the usual "preschool" sections were preserved in full. The theme of this issue — My Fair Nanny — is a familiar one to most working parents. Readers will also learn the best way to remodel the nursery, how stay-at-home dads manage with educating their children and how to cope with "the injuries of summer." The issue also includes a survey of summer camps for preschoolers.
The People section includes interesting facts about a favorite of parents and children alike — Winnie-the-Pooh, who turns 85 this year. Mamas&Papas offers a very unusual, non-touristy take on Turkey for parents who love traveling with their children.
In this issue, readers will also find the results of the "Find Wally" contest that was announced in the March issue.
Also in the June issue:
Acquaintance: an interview with actress Anna Banshchikova;
Test for adults: the second child in the family;
Method: learning to read.
The June issue was released for sale on May 17.